After moving into a renovated space this summer, the Liberty University Art Gallery will soon showcase an impressive collection of artwork generously donated by the late Barbara A. Engstrom, who also made the expansion possible.
Featuring 30 of Engstrom's own paintings in addition to glass and sculpted figures and photographs collected during her travels to 99 countries, the Barbara A. Engstrom Gallery will be a permanent exhibit within the new Liberty University Art Museum. An accomplished artist herself, Engstrom wrote a book, "Faith to See", which was exhibited at the Louvre in Paris and will now be available at the Musée de la Liberté.
Engstrom died in December. It was his wish that the gallery serve as a reminder to guests that the art on display is shown for the glory of God, the ultimate artist. She left a detailed layout and specification for the museum, which will be moved just down the hall from its former location in Green Hall, central to the School of Communication and the Arts (SCA) and a short walk from the lecture halls. class, the Tower Theatre, Black Box Theater and Tilley Student Center.
Frederick and Barbara Engstrom began their contributions to Liberty in 2013 when they supported scholarships for some of Liberty University College of Osteopathic Medicine's (LUCOM) early students.
Everett Foutz, a senior planned giving officer at Liberty who has developed a special relationship with the Engstroms over the years, said they were driven by their faith in every aspect, including their generous giving to the university.
"They were a lovely couple, they didn't have kids, but they loved the Lord and loved helping students, so it was just a matter of God putting on their hearts what they wanted to do to help." , Foutz said. "They are not donors, they are friends of what I like to think of as a ministry. They're donors, yes, and it's their money, yes, but God puts on their hearts what he wants to do for the university, and he's done it with every donation we've received.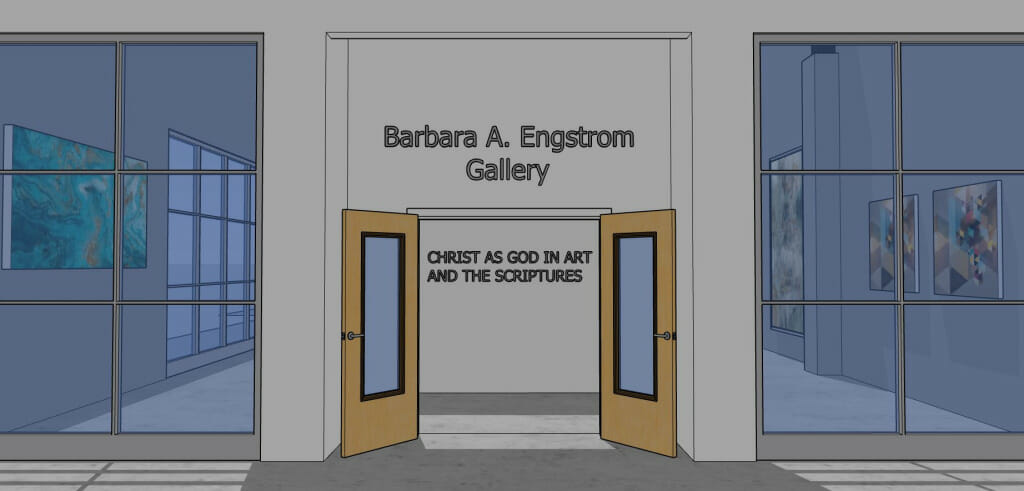 In 2017, after the LUCOM students they supported graduated, Foutz connected the couple with Todd Smith, the founder of Liberty's Studio and Digital Arts Department and art gallery. In addition to initiating scholarships for five art students, Smith said Barbara Engstrom asked him about the gallery and its purpose. She had originally planned to donate her art to a gallery closer to her home in the Philadelphia area, he said, but the museum refused to display it as she wished: with reminders of the art as proof of the glory of God. Smith said Barbara was thrilled to find a place that already put God first in the arts.
"I drafted an email that discussed our art department, Christian worldview, Christian philosophy, training students for Christ that can impact cultures around the world through the arts and everything we enjoy here at Liberty," Smith recalled. "She responded with a message full of exclamation points and capital letters praising God for what He has done here. She was thrilled to have bonded with us.
In addition to providing funds for the expansion of the museum and donating the collection, the Engstroms have also established new scholarships for art students who are invited to create new pieces for the glory of God and display them. in the university or in Lynchburg.
Liberty's art collection and gallery have come a long way since they started with an artwork in 2009, Smith said, and he credits the growth to God leading artists and collectors talented in college.
"Years ago there was no art gallery, and we started it from scratch," Smith said. "We would have an exhibition, and because of the space and the feeling that only two people could enter at the same time. I prayed and asked God, "If we're going to create this (gallery), even if we have to start small, we're going to do it and let you have your way."
The years since those initial prayers have led to many art donations that Smith and Foutz have teamed up to bring to Liberty, including a collection of 21 paintings by artist Robert Wilson Sr. depicting the life of the Christ, which can be found on the walls of the Montview Alumni Ballroom.
"One of the main goals has been to collect the best artwork that can be collected for our permanent collection, and then have an installation to show it off, and now that installation is going to be beautiful and in a great location," Smith said. .
The Barbara A. Engstrom Gallery will take up one-third of the space, leaving the rest of the museum to display pieces by students, faculty, and outside artists. The museum will feature exterior glass walls and movable interior walls to allow for the staging and separation of the different exhibits in the space. For events like College for a Weekend (CFAW), the museum can also be used to host guests who wish to learn more about Liberty and SCA.
SCA Dean Scott Hayes said the museum is an ideal way to use the space that has been intentionally left open for future additions to the school.
"I think it's the best of all worlds; we're getting this great new museum that honors the gifts of the Engstroms, and it will have a multipurpose layout that our other art gallery spaces never had before," Hayes said.
He noted that the school plans to accommodate students who use the current space as a living room and study area, with furniture moved to Green Hall.
Construction of the museum will begin next week and should be completed by the end of this summer.