It's no surprise that Detroit's creative industry has gotten its fair share of attention in recent years. From sustainable collections locally designed by successful local fashion icon Tracy Reese fashion manufacturing initiatives and recently announced plans for international Cumulus Conference taking place in Detroit this year, key players in the city's emerging fashion, art and design sectors did some things worth mentioning – and sparked conversations from coast to coast. 'other.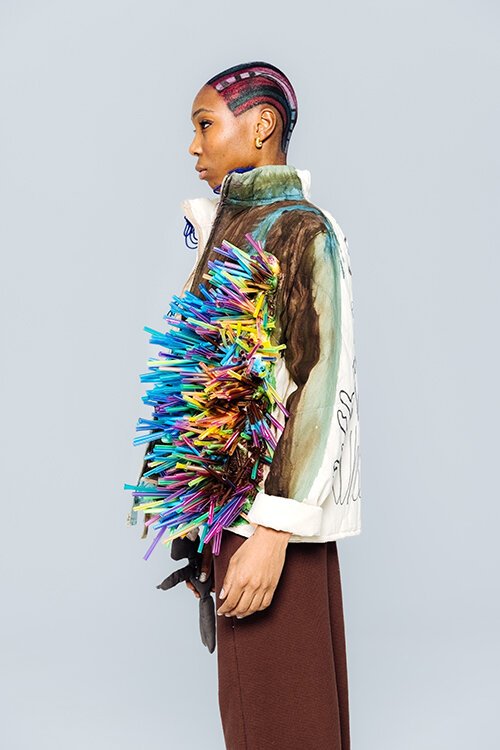 Yet something important was missing from these national conversations about Detroit's creative community, according to the co-founders of the Detroit-based fashion house. deviate: the voices of the artists of the city themselves.
"What we've noticed in this conversation is that there's really not a collective voice coming from the creative community (in Detroit), which is really fueling this attention and fueling this artistic movement that's happening in the city, this total renaissance of arts and culture. And so that was really weighing on us – how do we bring this creative community into the conversation? says Deviate co-founder Cassidy Tucker, recalling the concerns she shared with her sister, co-founder and creative director Kelsey Tucker.
When designing the brand's new Fall/Winter 2022 collection, the Tuckers came up with a unique solution: showcasing the fashion capital of the world with the work of more than 50 Detroit artists.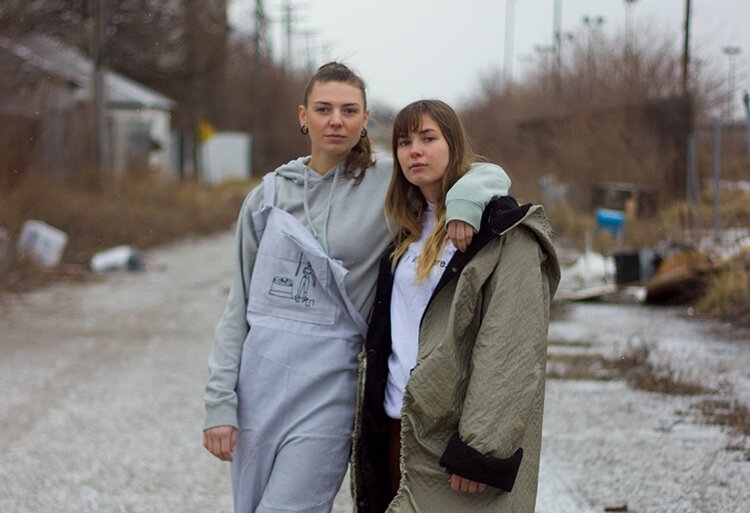 Co-founders of Detroit-based fashion house Deviate, Kelsey and Cassidy Tucker.
Trust their wings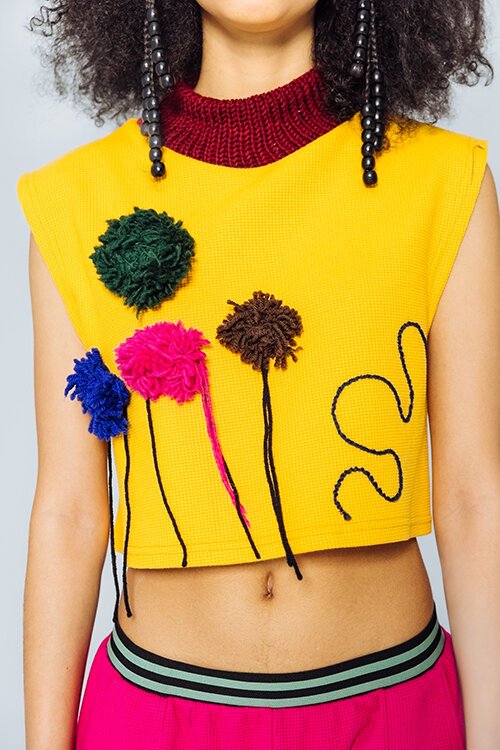 After designing Deviate's Spring/Summer 22 collection last season, Kelsey Tucker says she found herself in a "weird" place, caught somewhere between the commercial and the artistic, unsure of where next season's designs should go.
"We had started working with a showroom in New York, so the last season, 'Impalpable as a Dream,' leaned more into the business side. And I didn't feel like that was me at all. 100%," recalls Kelsey Tucker.
True to her creative process each season, Kelsey Tucker took the time to assess the lessons she had learned and how she had grown as a person between seasons. Then she started her storybook – an important part of Deviate's design process and the catalyst for each season's collection.
"That lesson (of the season) was really about believing in yourself, putting all that you are out there, and not worrying about who's going to like it — because your people will find you," Kelsey said. Tucker.
The storybook, titled "A Bird Trusts Its Wings", explored this lesson in detail. Inspired by the question of where ideas go when they're dropped, the whimsically dark and childish tale follows a character named Bird first through the real world, where ideas are shut down and discarded, then into an animated world in which every idea Bird ever had lives. Throughout the story, Bird encounters his lost ideas and learns to believe in them and save them.
"(These ideas) are what makes her, her"says Kelsey Tucker. "This story really acts as a metaphor for all non-traditional creatives who believe in what they do. Even if they don't go the traditional route, they can still do it too.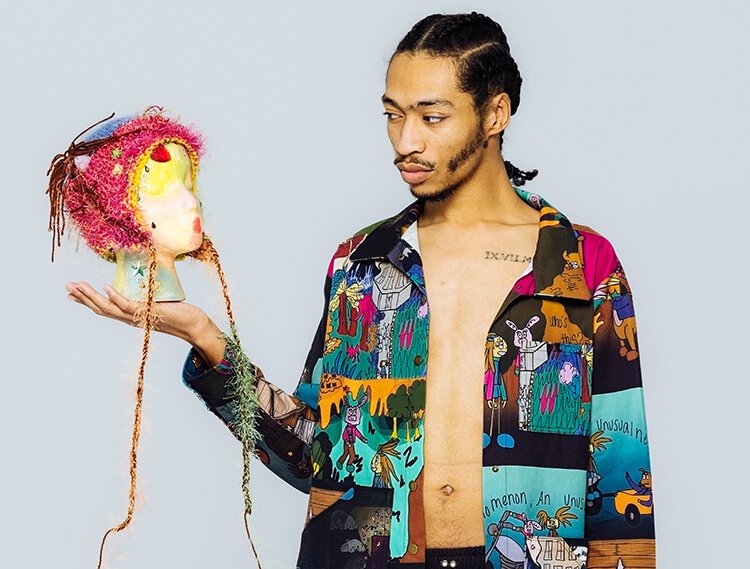 Bring ideas to life
While working on the new collection, which bears the same name as the storybook, the Tuckers knew they wanted to go beyond design for the next season – they wanted to bring Bird's story to life and its lessons while increasing the visibility of Detroit's creative community. .
"It dawned on us that we needed to bring all of these ideas across the county to New York and present them to an audience that doesn't necessarily view Detroit, or see Detroit, in the same light as we do," Cassidy Tucker recalls. . .
To achieve this, the Tuckers recruited more than 50 Detroit muralists, musicians, painters, ceramicists and sculptorsmainly through the Lost Artists Collectivea corporate vertical of Deviate that Cassidy Tucker says started "organically," inspired by house parties where guests were asked to bring an artwork for admission and received another artwork of art when they leave.
"It was like this community of all these artists that we hadn't met before were doing amazing things, and they just became friends," says Cassidy Tucker.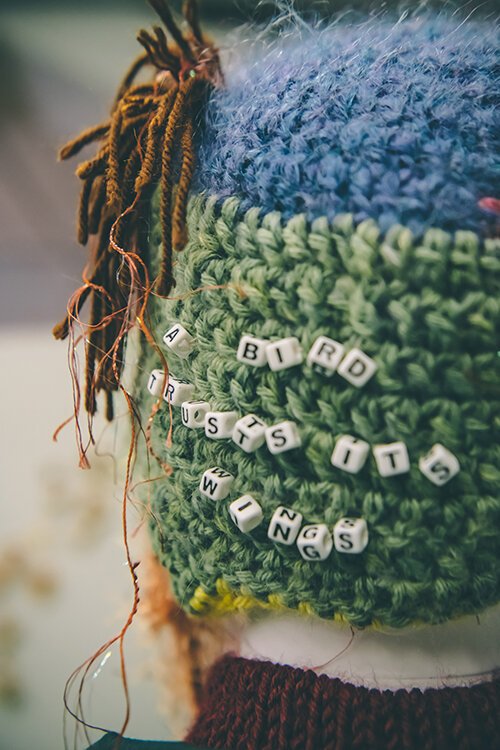 For the showcase, titled "Don't Sleep on Detroit," each artist was assigned a different chapter of "A Bird Trusts Its Wings," with regular meetups under the guidance of Kelsey Tucker to share ideas and progress.
One such artist was Detroit native Kay Lamon, who attended the Art Institute of Michigan, Novi for fashion merchandising and marketing before moving into abstract art.
"Recently, I discovered my passion for art. In 2020, due to COVID, I had more time to understand my art style, which is abstract. Since then, I have been perfecting my craft," says Lamon.
For the exhibition, Lamon was assigned the first chapter of the book, titled "Littered Ideas". Lamon contributed an installation bringing the concept of discarded ideas to life in a non-traditional way.
"Originally, I wanted to emulate a workspace – similar to an office, but with a creative twist. Specifically, the thought process of a creative person with a deadline while embodying the many emotions that come with new ideas. I chose to create this piece, in particular, because I identified with the character and admired transparency and honesty as a creative," says Lamon.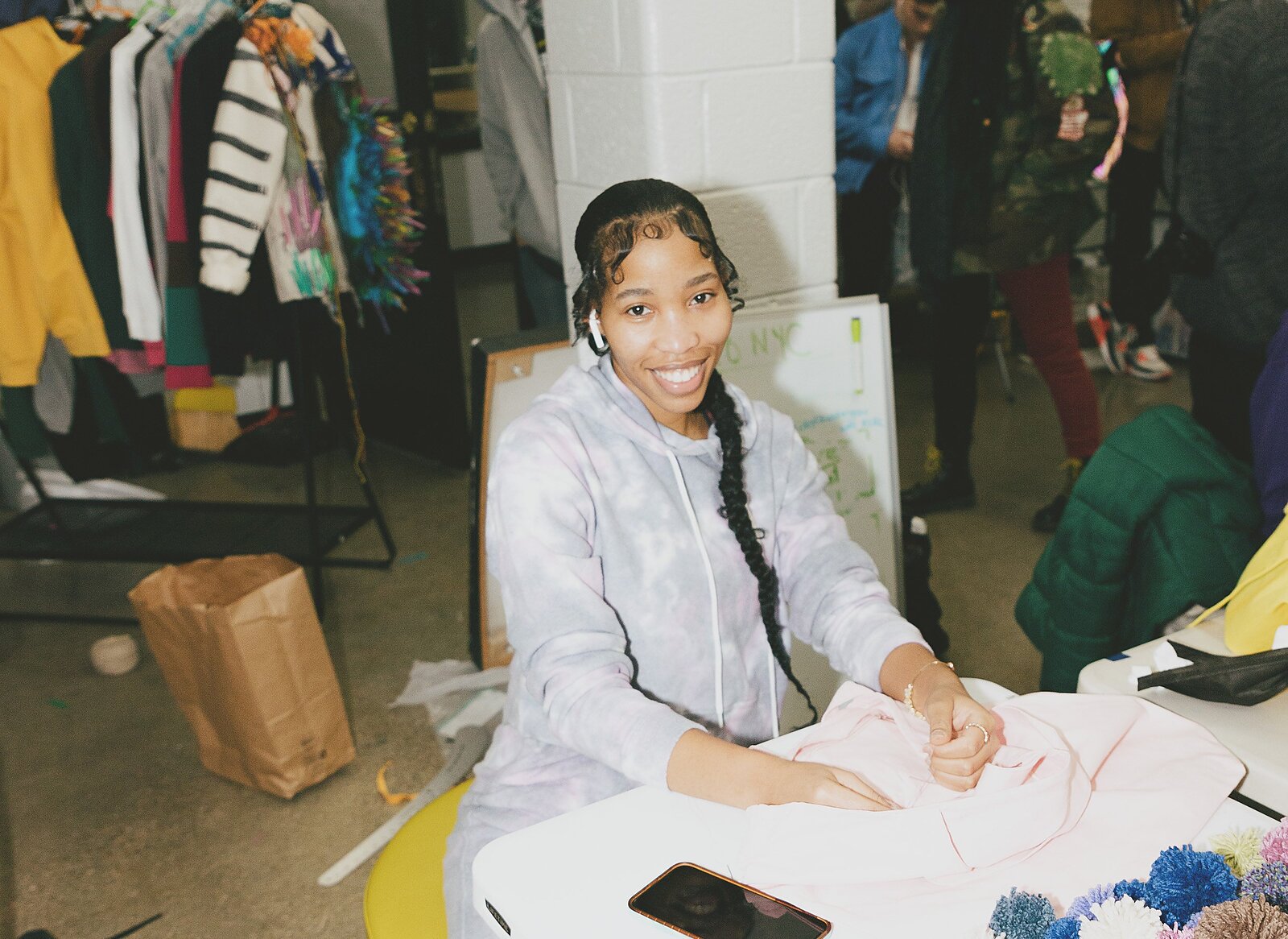 Kay Lamon. Photo by Kevin Barranco.
make moves
For the Tuckers, the logistics of planning a large-scale creative event in New York City 623 miles away between October and February haven't always been easy.
"It was the first time we had done anything on this scale. It was also our first time exhibiting in New York, so it was doubly difficult in that sense," explains Cassidy Tucker.
Through a combination of online research and in-person scouting during a trip to New York, the Tuckers were able to secure a huge 3,000 square foot space with a 1,500 square foot entry hall in Manhattan, near from the city's Flatiron district and Union Square.
"In terms of moving the artwork, that was the biggest challenge," says Cassidy Tucker.
To transport the artwork from Detroit to Manhattan, the Tuckers hired a professional moving company and rented a 26-foot truck, filling it with more than 50 original artworks and 40 display walls built on measurement in collaboration with a local scenographer. To move more fragile pieces, the Tuckers rented a Tahoe and hauled it themselves.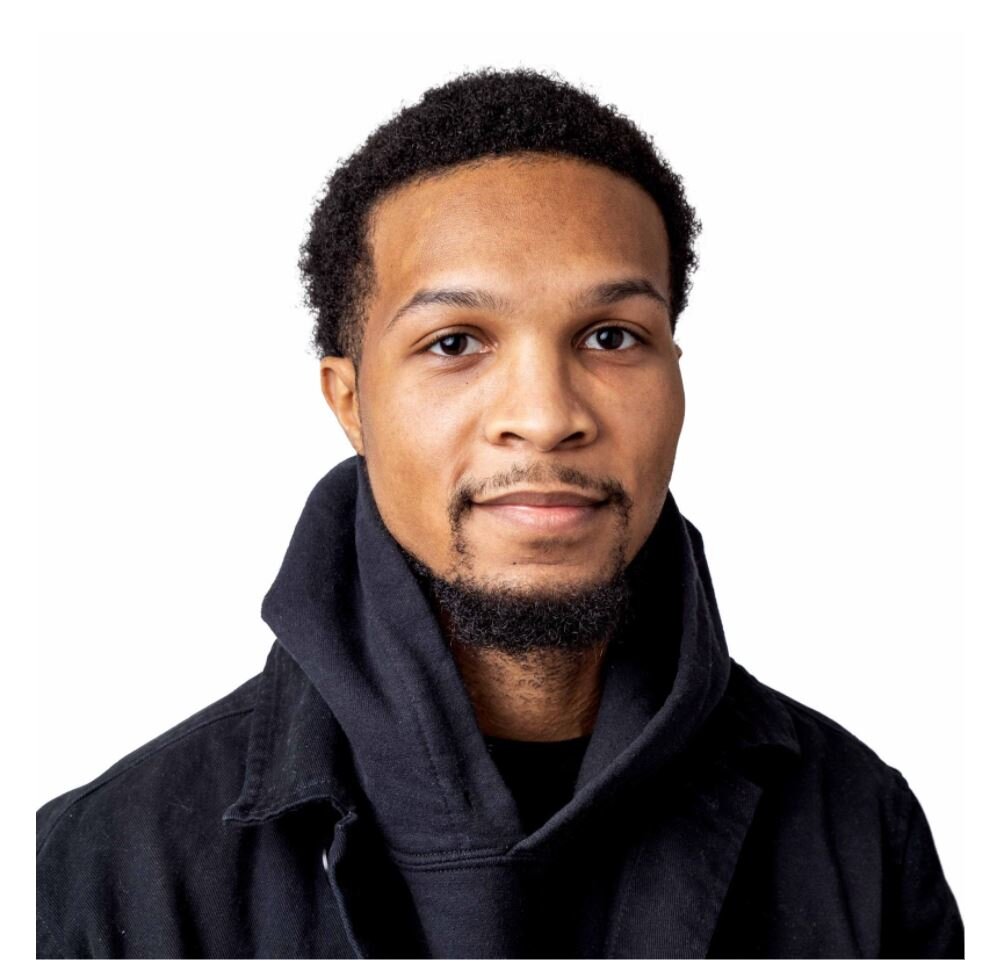 Mr. Antonio MamonIn New York, the Tuckers were joined by 25 of the artists who had contributed to the showcase. One of these artists was Mr. Antonio Mamona fashion designer and photographer from Detroit with a bachelor's degree in fashion design,
Mamon, who has been making art for nearly 10 years, was introduced to the Tuckers while working in the studio Boys and Girls Club of Southeast Michigan, one of Deviate's local partners and sponsors. When Kelsey Tucker approached Mamon about being part of the exhibit, Mamon said it was "a no-brainer" and quickly got to work on two installation pieces called "Locked" and "Unlocked", based on a storybook character.
"The two pieces work together to tell the story as I identified with it. They are mirror images of each other, just taken from different angles. Both have their meaning individually, but when they are seen together, they act like Yin and Yang," explains Mamon.
Beyond fashion and art, Mamon says "Don't Sleep On Detroit" had an important meaning of its own.
"The whole project was bigger than me, or Deviate, or any other individual artist. It was about us as a collective [and] city ​​coming together to tell a story, 'Don't Sleep on Detroit' – and Detroit has always had talent," says Mamon.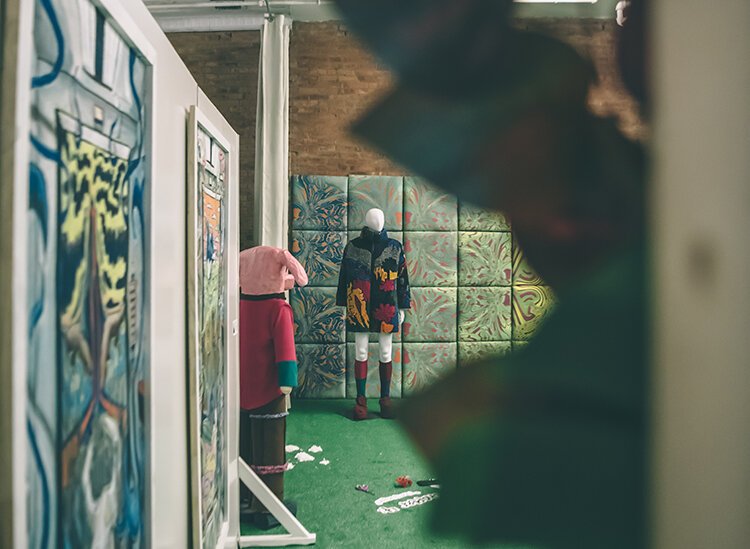 Exhibition "Don't Sleep on Detroit" by Deviate. Photo by James Johnson.
"The end" as a new beginning
According to Cassidy Tucker, setting up the exhibit took the Tuckers and the group of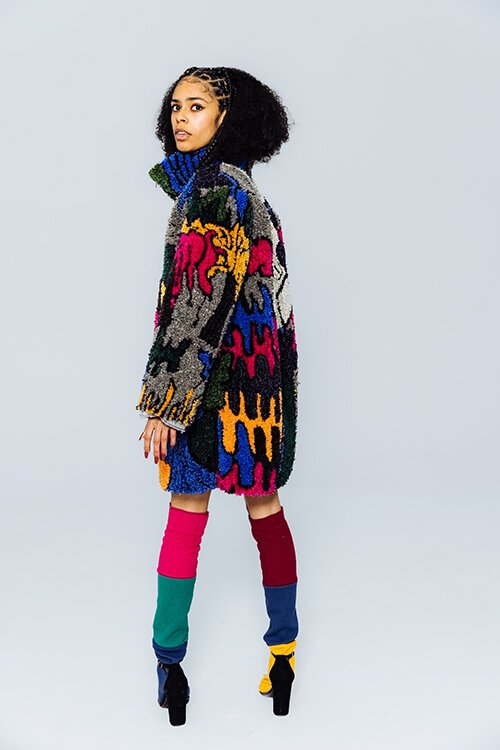 artists two full days to complete, working from 6 a.m. to midnight each day.
The resulting exhibition, which took place February 2 and 3, transformed the space into a immersive press and industry event by invitation only which took visitors through 10 rooms, each with a theme and artwork corresponding to a different chapter in the storybook.
The tenth and final room of the exhibition was titled "Ideas of the Future," offering New York guests a glimpse into the talent of young Detroit designers.
"What we wanted to do was showcase and include our partnership with the Boys and Girls Club so that the young designers who are part of our fashion design industry club were also able to bring in storybook-inspired collectibles," says Cassidy Tucker.
The Industry Club, which is part of a Partnership between Deviate, the Boys and Girls Club of Southeast Michigan, pony rideand Detroit is the new black, focuses on connecting young people in Metro Detroit with mentors and opportunities in the city's emerging fashion industry. (BGCSEM and Ponyride were also exhibition sponsors.)
"The goal was for those who attend the exhibition to walk around, hear the story of ideas that are overlooked, and then enter this room of all these real-world ideas from these young designers and young creatives, who, according to us, should be encouraged and supported," says Cassidy Tucker.
Beyond showcasing the city's talent, the Tuckers also had another goal in mind: to create opportunities for the people of Detroit.
"(The expo) was really about showcasing the talent that exists in (Detroit), with the ultimate goal of bringing opportunity — not just awareness, but opportunity — to the city," says Cassidy Tucker.
– Readers can experience Deviate's invitational exhibit in New York and listen to an abridged version of "A Bird Trusts Its Wings" here. "Don't Sleep on Detroit" will open to the public in Detroit later this year.